Grimbacher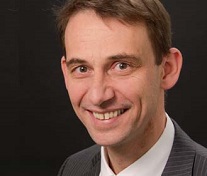 CV
1995-1997 Physician, Rheumatology and Clinical Immunology, Medical Center - University of Freiburg
1997-2000 Postdoc, National Institutes of Health, Bethesda, Maryland, USA
2000-2006 Physician and Research Group leader, Rheumatology and Clinical Immunology, Medical Center - University of Freiburg
2006-2011 Consultant Royal Free Hospital, University College London
Since 2011 Full Professor (W3) and Scientific Director, Center for Chronic Immunodeficiency, Medical Center - University of Freiburg
Focus of research
Genetics, pathophysiology, and therapy of antibody deficiencies
Genetics and pathophysiology of the Hyper-IgE Syndrome and recurrent candidiasis
Genetics and pathophysiology of chronic inflammatory bowel disease
Selected publications
Fliegauf M, Bryant VL, Frede N, … Grimbacher B. Haploinsuffi ciency of the NF-κB1 Subunit p50 in Common Variable Immunodefi ciency. Am J Hum Genet. 2015; 97(3):389-403.
Schubert D, Bode C, Kenefeck R, … Walker LS*, Sansom DM*, Grimbacher B*. Autosomal dominant immune dysregulation syndrome in humans with CTLA4 mutations. Nat Med. 2014; 20(12):1410-6. *contributed equally.
Glocker EO, Kotlarz D, Boztug K, … Grimbacher B*, Klein C*. Inflammatory Bowel Disease and Mutations Affecting the Interleukin-10 Receptor. N Engl J Med. 2009; 361(21):2033-45.
Glocker EO, Hennigs A, Nabavi M, … Grimbacher B. A homozygous CARD9 mutation in a family with susceptibility to fungal infections. N Engl J Med. 2009;361(18):1727-35.
Holland SM, Deleo FR, Elloumi HZ, … Puck JM*, Grimbacher B*. STAT3 Mutations in the Hyper-IgE Syndrome. N Engl J Med. 2007; 357:1608-19.
Research methods
Next Generation Sequencing, MiSeq, gene panels and whole exome
Epigenetic changes in lymphocytes
Analysis of the microbiome