Hunte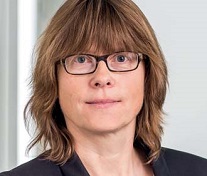 CV
1982-1989 Studies of Biology (Diploma), Bielefeld, Exeter (UK), Bonn
1989-1993 PhD (Dr. rer. nat.), University of Bonn
1995-2007 Postdoctoral fellow (Mentor Prof. Dr. H. Michel), group leader, Max Planck Institute of Biophysics, Frankfurt/M.
2007-2010 Chair in Membrane Biology, University of Leeds (UK)
Since 2010 Full Professor of Biochemistry and Structural Biology (W3), University of Freiburg
Since 2014 Dean of Research of the Faculty of Medicine
Focus of research
Aim of the structural biology research is the elucidation of structure, mechanism and function of medically relevant membrane proteins and signalling protein complexes.
Special focus is on membrane multi-protein complexes of cellular respiration  and  on ion transport proteins and their signalling complexes.
The core area for structure determination is the 3-dimensional crystallization and X-ray crystallography
Selected publications
Zickermann V*, Wirth C, Nasiri H, Siegmund K, Schwalbe H, Hunte C*, Brandt U*. Mechanistic Insight from the Crystal Structure of Mitochondrial Complex. Science. 2015; 347, 44-49,*corresponding author.
Birth D, Kao WC, Hunte C. Structural analysis of atovaquone-inhibited cytochrome bc1 complex reveals the molecular basis of antimalarial drug action. Nat. Comm. 2014; 5, 4029.
Hunte C*, Screpanti E, Venturi M, Rimon A, Padan E*, Michel H* . Structure of a Na+/H+ antiporter and insights into mechanism of action and regulation by pH. Nature. 2005; 435, 1197-1202 *corresponding author.
Lange C, Hunte C. Crystal structure of the yeast cytochrome bc1 complex with its bound substrate cytochrome c. Proc. Natl. Acad. Sci. USA. 2002; 99, 2800-2805.
Lange C, Nett JH, Trumpower BL, Hunte C. Specific roles of tightly bound phospholipids in the yeast cytochrome bc1 complex structure. EMBO J. 2001; 20, 6591-6600.
Research methods
Semi-automated high-throughput crystallization and crystal imaging robotics.
Crystallization of membrane proteins with recombinant antibodies.
Biophysical methods for characterization of membrane proteins, enzymes, protein complexes.