Weiller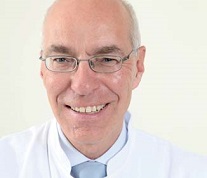 CV
1984-1991 Training in Pathology, Psychiatry and Neurology in Erlangen, Bonn, Aachen, London, UK
1991-1996 Professor (C2), Essen
1996-1999 Full Professor of Neurology (C4), Jena
1999-2005 Full Professor of Neurology (C4), Hamburg
Since 2005 Full Professor of Neurology (C4) and head of Department of Neurology,  Medical Center – University of Freiburg
Focus of research
Brain reorganisation in recovery from stroke

The dual-loop model as anatomical framework for cognitive function and neurological syndromes as aphasia, apraxia and neglect

Pathophysiology of acute stroke
Selected publications
Saur D, Kreher BW, Schnell S, Kümmerer D, Kellmeyer P, Vry MS, Umarova R, Musso M, Glauche V, Abel S, Huber W, Rijntjes M, Hennig J, Weiller C. Ventral and dorsal pathways for language. PNAS. 2008; 105:18035-40.
Musso M, Moro A, Glauche V, Rijntjes M, Reichenbach J, Büchel C, Weiller C. Broca's area and the language instinct. Nature Neuroscience. 2003; 6(7):774-81.
Liepert J, Bauder H, Wolfgang HR, Miltner WH, Taub E, Weiller C. Treatment induced cortical reorganisation after stroke in humans. Stroke. 2000; 31:1210-1216.
Weiller C, May A, Limmroth V, Jüptner M, Kaube H, v.Schayck R, Coenen HH, Diener HC. Brain stem activation in spontaneous human migraine attacks. Nature medicine. 1995; 1:658-660.
Weiller C, Chollet F, Wise RJS, Friston K, Frackowiak RSJ. Functional reorganisation of the brain in recovery from striatocapsular infarction in man. Annn Neurol. 1992; 31:463-472.